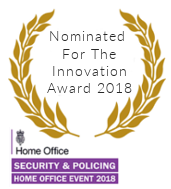 Sure Antennas Mallard MiMo OEM sharkfin antenna has been entered for the Security Innovation Award at the Security and Policing Event 2018.
The annual award, recognises the innovative capabilities and services developed by UK security companies.
The award is specifically designed to identify those capabilities that have caused a step change in the effectiveness of the UK's ability to prevent, respond to, reduce the impact of or investigate risks.
Sure Antennas will showcase its Mallard antenna at the event on stand A59 (March 6-8).
Ideal for ESN transition, the sleek, compact Mallard antenna supports up to eight functions and is available in a number of different colours to match emergency services vehicles.
Its robust exterior houses 2x ultra wideband antenna elements supporting 700MHz to 6GHz with a minimum 4dBi gain across the whole band.
Designed as a multi-function antenna there is the additional option of a MiMo Dual Band WiFi function, 2x GPS/GNSS Ports, and support for an optional whip to provide many frequency options including Tetra to help with ESN transition.
All our antennas are modified to your required frequency and each antenna fully tested to specification before leaving our technicians.
Colour options available include:
Please contact us for more details on 0151 334 9160.
For more information including technical specifications go to:
ESN Multi-function Wideband MiMo OEM Sharkfin Antenna
Related Products
OEM Multi-function MiMo Sharkfin antenna 5 functions
Overt low profile multi-function MIMO antenna
Ultra Wideband LTE Cellular 2G 3G 4G WiFi Antenna
Ultra Wideband LTE Cellular 2G 3G 4G WIFI Antenna with GPS