Sure Antennas has added the latest BMW 2016/2017 shark fin antenna to our extensive range of modified covert antennas.
This BMW internal antenna can be seen fitted to the latest range of BMW vehicles including the 1 Series, 2 Series, 3 Series, 4 Series, 5 Series, X1, X3, X5, and X6. The range of vehicles have different external painted sharkfin lids but the internal BMW part is always the same.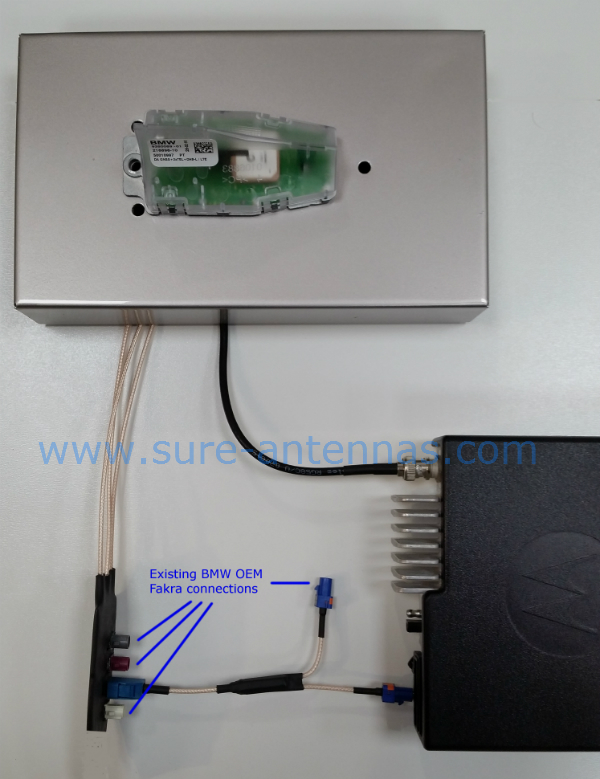 Our modification can retain the vehicle's four existing BMW OEM Fakra connections to allow the vehicles wiring loom to be reconnected, and additional connections added to support UHF and GPS for your mission critical radio terminal. After our extensive modification the antenna can be returned as a 6 function antenna for a full covert two way radio installation.
The modification process allows us to remove internal components of a genuine OEM antenna and replace it with our own custom built RF components, achieving the best performance at a chosen frequency in the form factor given.
Optional equipment can be added to the antenna to supply additional functions such as an optional SM3400 Phasing Unit or GPS splitter cable to allow 2 x radio terminals to work independently through the antenna.
If you have a 2016> BMW that requires a covert antenna please read below on how we could help supply you with this modified antenna or call us on 01513349160.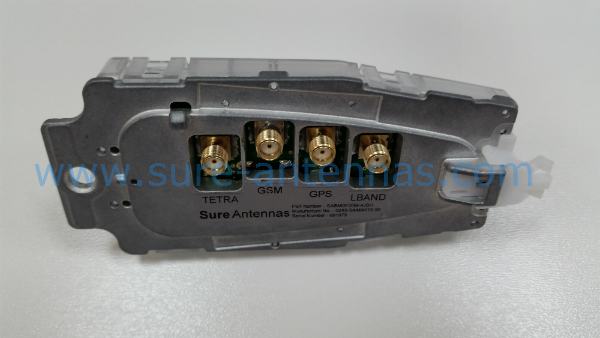 How it works
Sure Antennas offers a 'supply and modify' or 'modification only' service.
Supply and modify
Simply let us know the chassis number of your vehicle, we can contact BMW to find the exact antenna assembly fitted to your vehicle. This will allow us to confirm existing functions in the antenna and maintain them as well as adding the functions you require. From this an accurate quotation can be produced.
Modification only
Alternatively you can de-install the antenna and send it to us for modification, thus offering a more cost effective choice to the supply and modify option. Once we receive the antenna we can quickly assess the current antenna functions to supply you an accurate quotation.
Common changes include adding Tetra and GPS to existing antennas (both sharkfin and whip antennas).
If the solution involves maintaining your vehicle's standard OEM functions or has a multi-band requirement, we will tailor the correct antenna system for you. With a variety of diplexers, multiplexers and cable assemblies to choose from, all built to order, we can help maintain multiple devices to transmit via one antenna.
With all Sure Antenna products being produced to our current ISO 9001-2008 certification, quality assurance is now guaranteed.
If you require more information please contact us on 0151 334 9160