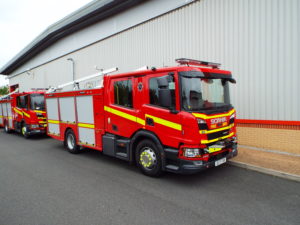 Within the UK, Merseyside Fire & Rescue Service (MFRS) has long been recognised as forward-thinking and technically proficient. Testament to this is in their selection to become the first Assurance Partner of the 'Emergency Services Network' Programme. The aim of this Programme is to trial the data and voice function capabilities of the network which utilises 4G, and is eventually set to replace Airwave.
With access to a wide pool of in-house talent and an operational DNSP (Distribution Network Service Provider) in place, Merseyside was the first Fire Service to be issued with the specified interim firewall. In these early stages, Telent, MFRS's outsourced ICT service provider were instrumental in helping to configure this firewall which showcased their ability, readiness and willingness to support the goals of the Programme. Furthermore, by setting up an isolated infrastructure, Merseyside was able to connect and enrol devices with ESN traffic using a Mobile Device Management (MDM) portal. This was crucial in the product, assurance and user testing stages that helped progress the Programme past Gate 5. Breaking the testing down into interim stages and products for example 'SIM only' followed by 'a device and SIM' is helping to ease the transition to end product.
Speaking with MFRS' Application Manager Bill Elliot, he explained that having utilised Sure Antennas' ESN Ready 'Mallard' antenna for their fleet since 2017, they have become a 'natural fit' for when the Programme progresses to testing the fixed vehicle devices. Bill detailed that the Mallard Antennas have 'played a critical role' in the testing to date and noted that other manufacturers involved in the Programme were also utilising Sure's Antennas. This is a trend that Bill foresees continuing as we move further towards ESN and away from legacy radio equipment.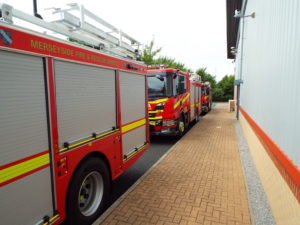 Discussing the antennas performance in more detail, MFRS' ESMCP Operation Lead, Mark Jones commented that the 'antennas have always delivered exactly what we needed them to, both in respect to the ESN Programme testing and also as a multi-function Antenna operating on Airwave'. Additionally, Mark highlighted the benefits of having a multi-function antenna, explaining that 'The single-hole installation makes the whole process more efficient, and results in less of a risk to the bodywork through water intrusion. Historically we have also had to mount antennas strategically spaced apart which presented cabling challenges but this is no longer an issue with the Mallard'. Sure Antennas were delighted to hear that MFRS' positive feedback also extended to the service they received. Bill commented that 'the degree of customer engagement has been excellent', a sentiment that was backed up by Mark who stated 'You cannot under estimate the importance of customer service which has been excellent with Sure Antennas'.
Sure Antennas are delighted and privileged to have worked closely with MFRS since 2017 and look forward to continuing to support the Service and many others as the ESN transition comes to fruition over the coming years.