Sure Antennas prides itself at being at the forefront of technology offering a unique multi-band covert antenna solution maintaining all the existing functions of your vehicle.
Each antenna retains its cosmetic look, to avoid compromising your covert operation. The internal workings are enhanced to feature additional functions needed to operate essential radio equipment. And importantly the original elements of your vehicle such as AM/FM, DAB, GPS, GSM and SOS calling are preserved.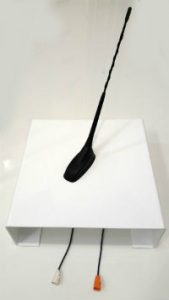 How it works
Sure Antennas offers a 'supply and modify' or 'modification only' service.
Supply and modify
Simply let us know the chassis number of your vehicle, we can contact the relevant car manufacturer to find the exact antenna assembly fitted to your vehicle. This will allow us to confirm existing functions in the antenna and maintain them as well as adding the functions you require. From this an accurate quotation can be produced.
Modification only
Alternatively you can de-install the antenna and send it to us for modification, thus offering a more cost effective choice to the supply and modify option. Once we receive the antenna we can quickly assess the current antenna functions to supply you an accurate quotation.
Common changes include adding Tetra and GPS to existing antennas (both sharkfin and whip antennas).
If the solution involves maintaining your vehicle's standard OEM functions or has a multi-band requirement, we will tailor the correct antenna system for you. With a variety of diplexers, multiplexers and cable assemblies to choose from all built to order we can help maintain multiple devices to transmit via one antenna.
With all Sure Antenna products being produced to our current ISO 9001-2008 certification, quality assurance is now guaranteed.
Mainstream modifications usually have a turnaround of seven working days. If you require more information please contact us on 0151 334 9160.